Collection:

Camping Coffee Drip Bag
Pocket Coffee Drip Bag | The Coffee City Collection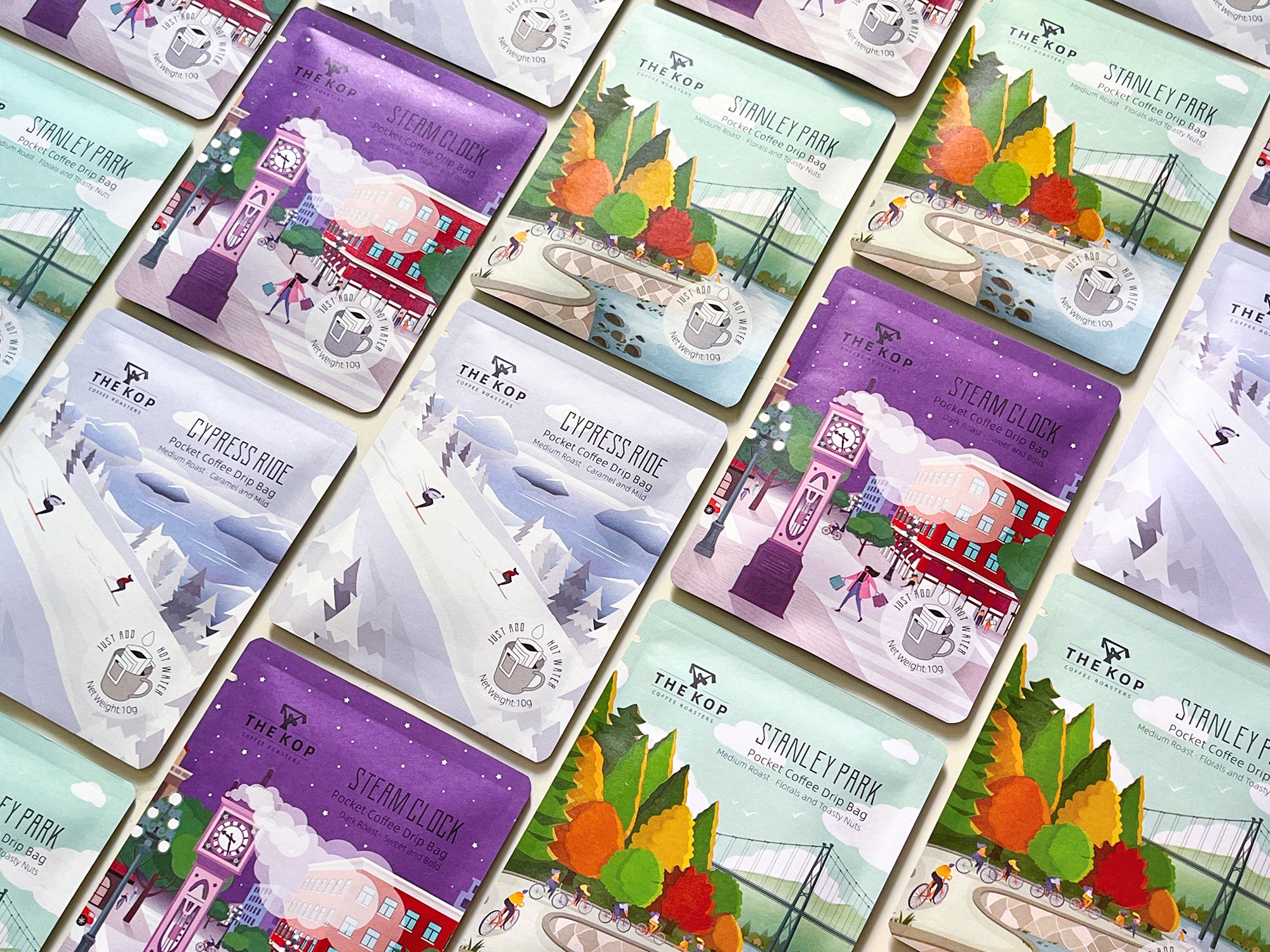 Greater Vancouver's reputation strives on her magnificent nature environment; additionally, the coffee culture invigorated by the variety of coffee shops furnished an essential part of the scenery. To Vancourites, life is all about coffee and the outdoors.
The pandemic has significantly affected many industries, especially for food and travel. It inspired us to deliver 「The Coffee City」Collection of drip bag coffee. We believe every single bit of life has meaning. We choose to cheer it up with good coffee.
Our designer choicely illustrated the most spectacular landmarks and attractions in Greater Vancouver to package different varieties of specialty coffees selected attentively by our certified coffee Q-grader. After numerous efforts on trial and error, we are now grateful to introduce three pocket coffee drip bags, Stanley Park blend | Medium Roast, Steam Clock blend | Dark Roast and Cypress Mountain blend | Medium Roast. 
We hope to share the beauty of Greater Vancouver through this collection and spotlight Vancouver's name - The Coffee City.
Pocket Coffee Drip Bag | 

The simplest and tasty coffee on-the-go
Each bag is individually sealed in a small and thin sachet. You can keep it in a luggage case, a backpack, a lunchbox or even the side pocket of hiking pants. Addtionally, you need no coffee gears to brew the coffee. When you make the morning kick, a mug and hot water are all you need. 
The coffees are selected carefully by our certified Q-grader with countless quality evaluation and then roasted precisely with a powerful GIESEN®  roasting machine.
All the above means you don't worry about forgetting coffee gears for camping, you don't need to clean coffee tools, you can save more room for storing other stuff and most importantly, you will enjoy a damn good cup of joe.

Our coffee drip bag contains 100% coffee ground without any additives, which is totally different from the traditional instant coffee.
In the package, there are 8 pocket coffee drip bags with 10g of specialty coffee ground for each bag. Just following the instructions, you can simply make a good coffee anywhere and anytime.